Solomon Airlines has unveiled its newest international aircraft, the Airbus A320 with registration H4-SAL, showcasing its modern and custom interiors. The aircraft features a sleek cabin design with blue, grey, and white tones and all-leather seats in Business Class and Economy Class. Business Class offers 12 seats in a 2 x 2 configuration with a seat width of 21 inches, a recline of 10 inches, and a seat pitch of 40 inches. Economy Class has 138 seats in a 3 x 3 configuration, each with a seat width of 17 inches, a recline of 3 inches, and a seat pitch of 33 inches.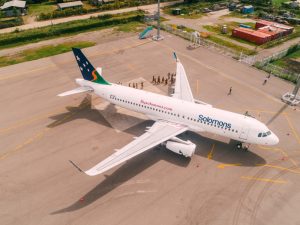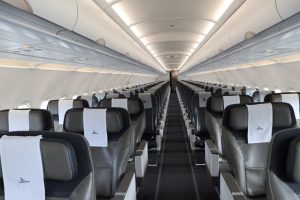 The aircraft was specifically customised to Solomon Airlines' specifications, providing 8 more economy seats than their other Airbus A320, H4-SIB. The exterior of the aircraft features the national carrier's distinctive blue, green, and yellow livery, along with the 60th Anniversary Year logo. The Pacific Games Mascot, 'Solo,' greets passengers with a smile as they enter the plane on the right-hand side of the aircraft door.
Additionally, the Airbus A320 is equipped with 'sharklet' vertical extensions on the wingtips, improving fuel efficiency and showcasing beautiful Solomon Islands scenery. Travel photographer David Kirkland's image of Marau Sound adorns the inside of the wingtip sharklets, allowing passengers to enjoy glimpses of the islands during their flight.
Solomon Airlines CEO, Mr. Gus Kraus, expressed excitement about the aircraft's improved fuel efficiency, passenger comfort, and increased capacity, making it an attractive choice for international flights. He also emphasised the airline's desire to showcase the beauty of the Solomon Islands and encourage passengers to explore further.
The new Airbus A320 doubles Solomon Airlines' international capacity, meeting the travel demands for the 17th Pacific Games later this year. It also positions the airline to support other Pacific Island nations through commercial services, charters, and leases.
VIP guests, including government officials and dignitaries, experienced the aircraft during its delivery flight from Brisbane to Honiara. The Airbus A320 H4-SAL has officially entered commercial service since July 29, with its inaugural flight from Honiara to Nadi.
As the national flagship carrier celebrates its 60th year, Solomon Airlines' fleet now includes two Airbus A320-200 international aircraft, one De Havilland Canada 8-100 (Dash 8), and three De Havilland Canada DHC-6-300 Twin Otter, one of which is assisting neighbouring Vanuatu. The addition of the Airbus A320 H4-SAL enhances Solomon Airlines' capacity and signifies the carrier's commitment to providing a unique and comfortable travel experience for passengers.