Registrations for the Developing Sustainable Resilient Infrastructure in the Blue Pacific conference have been picking up pace since bookings were opened a few weeks ago for delegates, trade booths, and advertising space. The much awaited conference will take place at the Brisbane Convention and Exhibition Centre from 25 to 27 September 2023.
Organised by the Australia Pacific Islands Business Council in collaboration with the Australia Fiji Business Council and the Australia Papua New Guinea Business Council, this conference has garnered support from various entities, including the Australian Office of the Pacific and numerous government and corporate sponsors.
This ground-breaking conference aims to foster inclusivity, bringing together political and business representatives from all 16 Pacific Islands Forum countries, as well as Australia, New Zealand, the United States of America, Japan, France, and other bilateral partners and multi-lateral development agencies such as ADB, World Bank, and UNDP.
To ensure a seamless experience, interested participants are encouraged to book their spots early, as demand is expected to be high. Early bird booking rates will be applicable until 13 August 2023, after which the full booking rate will apply.
The speaker program promises a diverse line-up, featuring representatives from major bilateral donor countries, multilateral donors, and presentations by all Pacific island countries on their infrastructure pipeline. Additionally, the conference will highlight successful women in Pacific construction, the significance of maintaining proper procurement and construction standards, presentations by Pacific private sector peak bodies on each country's workforce capabilities, and case studies by contractors on infrastructure projects undertaken in each country.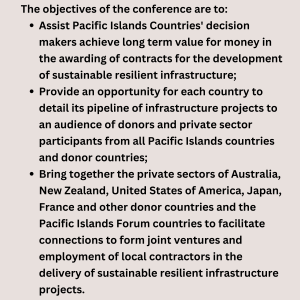 The Pacific Islands countries have an extensive pipeline of donor-funded infrastructure projects planned for the short to medium term, including the A$4 billion Australia Infrastructure Financing Facility for the Pacific (AIFFP).
Amidst financial constraints and the pressing need for sustainable and climate-resilient infrastructure, delivering projects to the highest standards is of paramount importance. This endeavour aims to safeguard the well-being of the Pacific islands countries, all of which currently face the challenges of climate change adaptation.
If you haven't already registered, please click on this link to register online. https://events.apibc.org.au/event/WXBHNE/